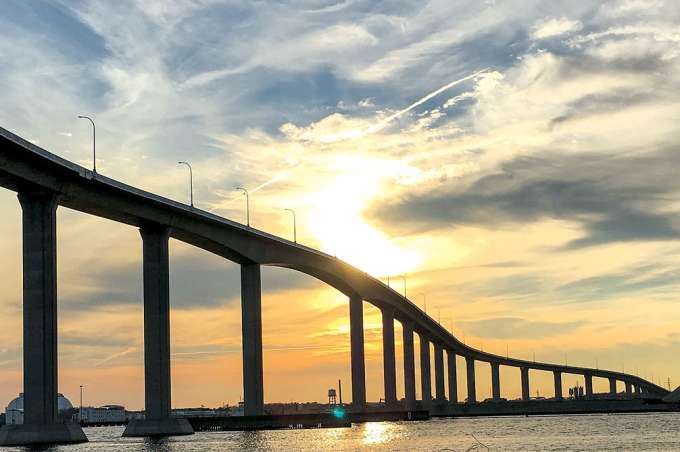 From atop the South Norfolk Jordan Bridge, you can see for miles in every direction. Signs of industrial progress scatter the distant landscape. Boats come and go as birds flock overhead. For a moment, you forget the Elizabeth River-which stretches as far as the eye can see-lies a whopping 169 feet below.
Opened in late 2012, the Jordan Bridge connects Elizabeth River Park in Chesapeake to the city of Portsmouth. A thrilling round-trip of the bridge is about 3 miles and takes approximately an hour to complete on foot. If cycling is more your style, you're more than welcome to join. Just be sure to yield to walkers.
How Do I Get to the Jordan Bridge?
To find this walker's gem, type 1400 Elizabeth River Way into your GPS. You'll be able to access the abundant parking from Poindexter Street, which includes public restrooms. And be sure to stop by during the summer to enjoy the warm weather and snack bar located near the park's dock.
Rules to Know about the Jordan Bridge?
While you're here, we want you to have a wonderful and safe time.
Pets are okay, but be sure to clean up any waste
Bicycles are allowed and must yield to pedestrians
No alcohol or glass bottles
No skating, roller blading, skateboards, scooters or any motorized vehicles
No fishing or crabbing