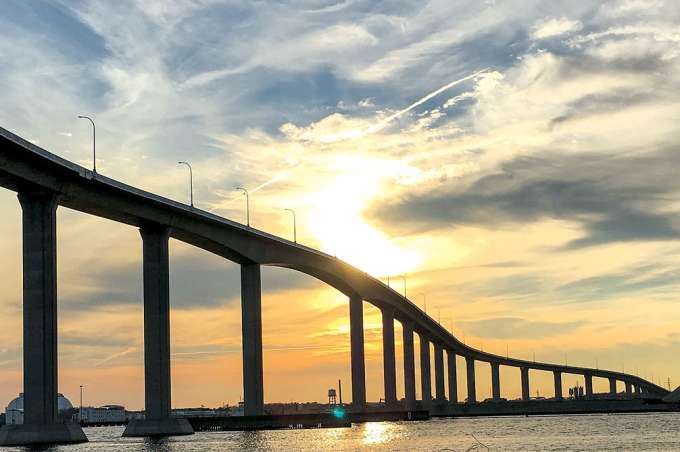 You won't find an experience like this anywhere else in Virginia (really, it's that incredible). From atop the South Norfolk Jordan Bridge (also known as SNJB), you can see for miles in every direction. Beautiful bird species cross the skyline. Whisps of clouds float past Chesapeake, Norfolk and Portsmouth. For a moment, you forget the Elizabeth River—which stretches as far as the eye can see—lies a whopping 169 feet below. The view from beneath is breathtaking. The walk across is a pure thrill.
Prized for its Instagram-worthy views, the Jordan Bridge offers spectacular photo ops from the cool blues of sunrise through golden sunsets. A round-trip adventure across the bridge and back is about 3 miles and takes about an hour to complete on foot. If cycling is more your style, there's plenty of room for you to join on along the bridge walk.
Make an afternoon of your time at the Jordan Bridge by grabbing takeout from The Dog House or Southside BBQ nearby. Snack on Snoop's famous chili from The Dog House or grab a sandwich and salad before a fun-filled day. If your tastebuds are craving BBQ, snag takeout from Southside BBQ. They made their first public appearance at South Norfolk's 2019 Fourth of July Celebration and were a huge hit—they sold out before 1 p.m.
After you've got your tasty food picked up, you'll find abundant parking at Elizabeth River Park, located next to the South Norfolk Jordan Bridge. Hop out and enjoy all the amenities, including a dog park, multiple shelters, ships store and gazebos throughout the park, a playground, a paved trail, and more. If you prefer the thrill of the water, 2-lane boat ramps with launch and retrieval sites are available for public use at no charge. After stopping by the Snack Shack, drop your boat in the Elizabeth River via the Park's boat ramp and get ready to cast your line. You can also fish from the Park's Pier without a fishing license, so you can make a day of your adventure.
Q:
How long is the South Norfolk Jordan Bridge? 
A:
The South Norfolk Jordan Bridge is a 2.4 mile (approximately 5,500-step) route located near Chesapeake, Virginia, USA. This route has an elevation gain of about 282.1 ft and is rated as medium. 
Q:
Can you walk the Jordan Bridge?
A:
Yes, walkways are safe for both pedestrians and cyclists. 
Q:
How do I get to the South Norfolk Jordan Bridge?
A:
The South Norfolk Jordan Bridge is located at 1400 Elizabeth River Way. You'll be able to access the abundant parking from Poindexter Street, and the park includes public restrooms. And be sure to stop by during the summer to enjoy the warm weather and snack bar located near the park's dock.
Q:
Is there a toll for the Jordan Bridge?
A:
Enjoy the pedestrian walkway for free. The path is accessible during daylight hours. There is a toll for vehicle traffic, both for EZ Pass and Pay by Plate. 
Q:
How old is the Jordan Bridge? 
A:
The new Jordan Bridge opened in October 2012.
Q:
Are pets allowed at the Jordan Bridge? 
A:
Pets are okay, but be sure to clean up any waste. 
Q:
Can you bike along the Jordan Bridge? 
A:
Bicycles are allowed and must yield to pedestrians. 
 
Q:
Is alcohol permitted at the Jordan Bridge? 
A:
No alcohol or glass bottles are allowed. 
Let's Get Social
Share your best pics for when you visit the Jordan Bridge in Virginia by tagging #VisitChesapeake in your post. You might even get featured on our website!