Parks, picnics, food, festivals - everyone comes to Chesapeake for the great outdoors, but did you know you need to head inside to experience one of the city's coolest attractions? Chilled Ponds Ice Sports Complex is a state-of-the-art, 90,000-square foot facility with two NHL-size rinks, a fitness center, the CP Bar and Grill and more for the entire family to enjoy.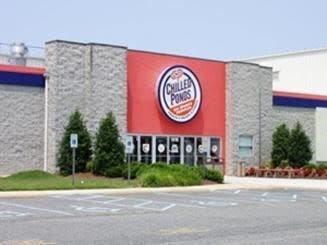 Here are the top 5 reasons to get out and hit the ice:
1. Hockey
Looking for a new way to get active? Already on your way to being the next Wayne Gretzky? Chilled Ponds has opportunities for everyone to pass the puck. Adults can choose from several weekday leagues and youths are matched up according to their skill level. Grab your stick and lace up, it's game time!
2. Public Skate
Everyone is welcome at the daily public skating sessions. Prefer the nightlife? Every Friday evening Chilled Ponds hosts Skate-N-Glo, where you can strap on a set of blades and glide along to the latest hits in a club-like atmosphere.
3. Love is in the air
Tired of the same old dinner and a movie date scene? Strap on your blades and go for a skate with your special someone. Don't worry about your skill level - laughing with each other when you fall is half the fun.
4. Learn something new
As they say, it's never too late. Chilled Ponds offers a variety of classes for aspiring skaters and hockey players regardless of experience.
5. Year-round
To paraphrase the humorist Dave Barry: The problem with winter sports is that they happen in winter. Chilled Ponds is open year-round, so it doesn't matter if you're looking to capitalize on the snowy season, or for a fun activity out of the summer sun, there's always a reason to stop by Chilled Ponds.
Phone: 757-420-4488
Email: specialevents@chilledponds.com
Address: 1416 Stephanie Way, Chesapeake, VA 23320
Hours of Operation: Sunday to Thursday 10 a.m. - 8 p.m., Friday to Saturday 9 a.m. - 11 p.m.