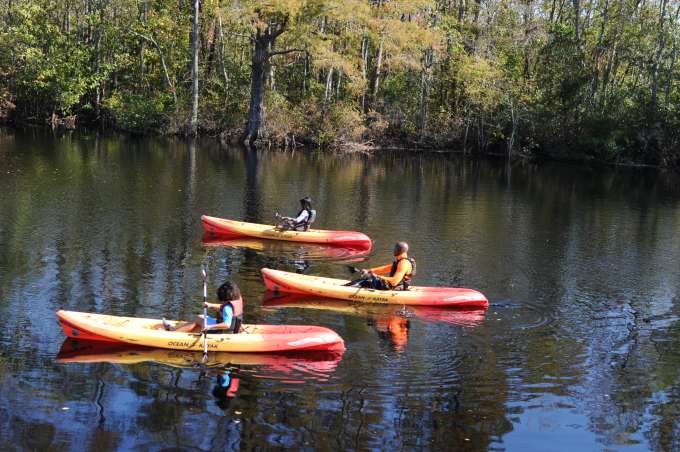 Kayak, canoe or paddleboard through Chesapeake's breathtaking waterways and earn cool rewards along the way with Paddle the Peake. Rewards include a Paddle the Peake sticker, hat, dry bag and Nalgene water bottle. C.J. Fair, who's been kayaking for four years, recently completed all four reward levels.
"I enjoy the peace and the tranquility of kayaking," C.J. said. "Chesapeake has a lot of waterways that are very calm and scenic, and it's soothing to be out there."
Launch your vessel of choice and paddle through the untamed Dismal Swamp Canal, home to river otters, foxes, black bears and many other species of wildlife living among the calm amber lake and gorgeous bald Cyprus trees. Or put in at Northwest River Park, which features 763 sprawling acres, canoe and kayak rentals and glassy-calm Lake Lesa. There are nine locations in total in the Paddle the Peake program.
C.J. reached the highest reward level by checking into every location, earning her the title of Paddle Pro. What motivated her to complete all four levels? C.J. saw Paddle the Peake as a family adventure. "It was something fun that my children and I could do together," she said. "We set out on a weekend to see if we could check into all of the different places."
As a result of Paddle the Peake, C.J. and her children discovered kayaking locations they hadn't known about. And along the way, they kayaked past some of Chesapeake's most photo-worthy bird species. "If you take your time and just glide through the water, you can see tons of wildlife. We saw peregrine falcons, egrets, osprey and a bald eagle. My son especially loved that."
C. J. and her son explore the Dismal Swamp Canal.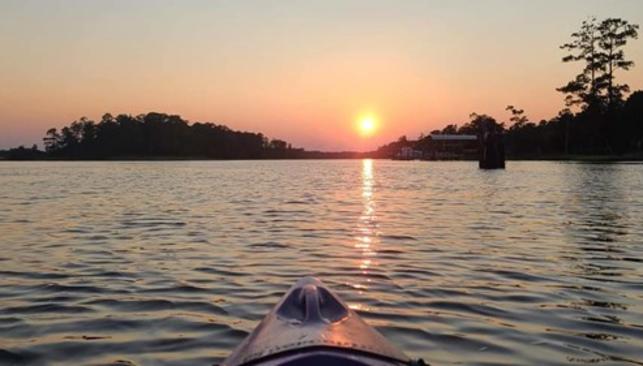 C. J. and her family take in a Chesapeake Sunset.
When asked which Chesapeake kayaking location was her favorite, C.J. smiled with delight. "Oh, that's so difficult to choose just one. We love putting in anywhere along the Elizabeth River. It's an easy location and great for watching sunsets. The colors reflect off the water and it's absolutely gorgeous."
Ready to hit the water? Download the Chesapeake, VA app for a complete list of Paddle the Peake locations and details. Don't forget to share your paddle adventures with the hashtags #PaddleThePeake and #VisitChesapeakeVA.