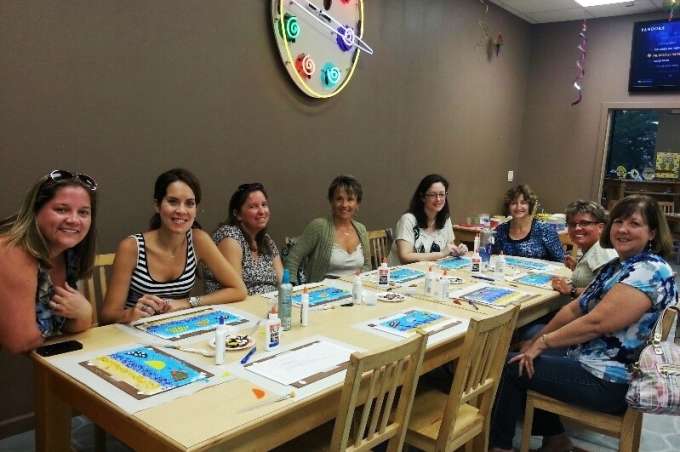 When it comes time to unleash your creative side, Chesapeake has the perfect place for you.
GLӓZENFYRE is a contemporary paint-it-yourself studio that offers over 1,000 different pottery items and plenty of canvases as well. No matter what you're in the mood to paint, they're sure to have it.
They even have glass pieces you can make. "It's like putting a puzzle together without a picture," says GLӓZENFYRE co-owner Diana Snyder. "Then we put the pieces in the kiln at about 1,600 degrees. At that temperature, everything melts away but the glass."
If you're wondering just how much fun painting can be, take a look at the awards the studio has won. Since opening in 2005, Glazenfyre has won the Best Pottery Studio Gold Award every year.
"We're completely local," says Snyder. "There's no franchise here, so we take care of our customers differently. In fact, we take full-service to the next level. We bring everything to you-paints, supplies, everything. We're like your waiters and waitresses. It makes for a more relaxing, creative experience."
Spice up your birthday with a GLӓZENFYRE party. Over the rest of the year they offer events nearly every night of the week. Be sure to check their website for this month's events calendar.
Become "part of the art" at GLӓZENFYRE. No matter your age or skill level, there's something fun for everyone. Stop by today and let the moments begin.
GLӓZENFYRE
501 Kempsville Road
Chesapeake, VA 23320
(757)436-9990
Hours
Monday - Closed
Tuesday - Thursday, Saturday - 11 - 7
Friday - 11 - 9
Sunday - 12 - 6