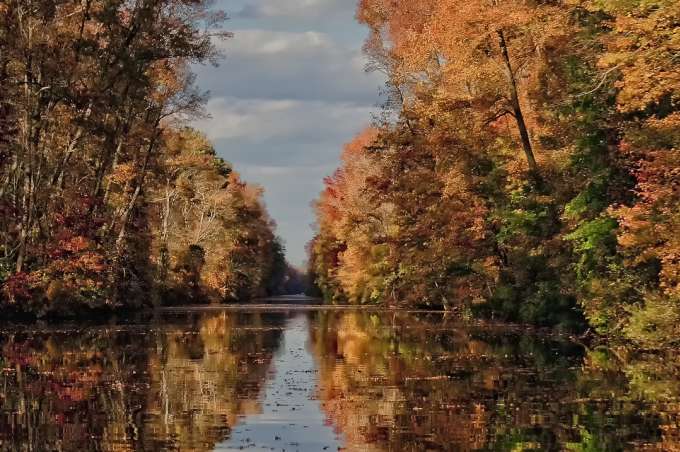 Virginia is known for her spectacular fall foliage in the mountainous region of the state. But Chesapeake shows off her striking oranges and deep reds of fall reflected in miles of scenic waterways. Chesapeake's waterways are considered some of the best in the country, by locals and visitors alike, to paddle. And during the fall, it's a breathtaking sight that's not to be missed.
"What makes paddling Chesapeake in fall is the double shot that looks amazing in photos," says Kevin Fonda, owner of Adventure Kayak Tours. "It's not like walking on a path, you just feel completely immersed."
It's an extra special visual treat when the leaves fall on the water. "I have some pictures where it Dismal Swamp Canal looks like a river of gold," says Kevin.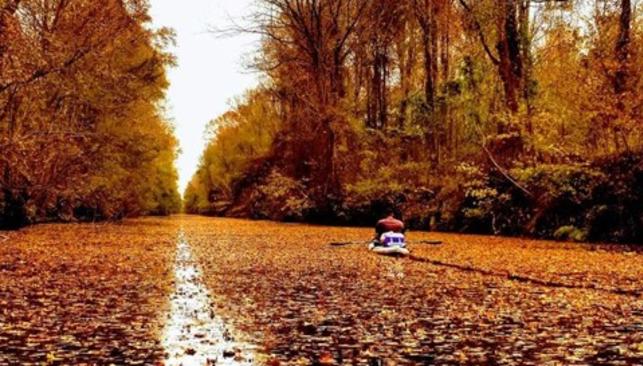 Fall Leaves on the Dismal Swamp Canal
Chesapeake is home to many deciduous trees (ones that seasonally shed leaves) including maples, white oaks, red oaks, tulip poplars, crepe myrtles, London planes, bald cypress and plenty more. Changes in the season also bring cooler temperatures, low humidity and more active wildlife. "You see a lot more animals out and about," says Kevin. "You tend to see birds, river otters, beavers and even bears."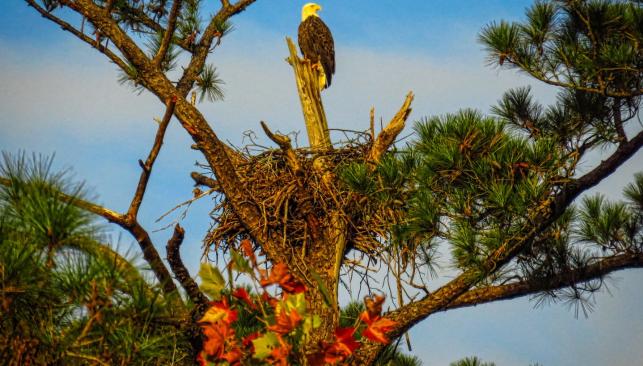 Paddling enthusiasts come from far and wide to experience kayaking, canoeing or paddleboarding on Chesapeake's waterways. Visiting from Washington, DC, Kent and Kelly were blown away by what they found in Chesapeake. "We paddled lots of miles and were spellbound by the beauty we paddled through everywhere we went."
Beautiful vistas like the Dismal Swamp Canal, Northwest River Park and Great Bridge Lock Park have drop-ins that are open to the public.
Anywhere you'd like to paddle in Chesapeake, Adventure Kayak Tours will meet you there with all the gear you'll need, then lead you through the unforgettable sight of Chesapeake's fall foliage.
"It's just a totally different scenery than people are used to seeing when they come to this area," says Kevin Fonda, who's a Virginia Beach native. "People who have lived here their whole life don't even know the beauties of the waterways. I'm opening up people's eyes to what's in their own backyard so they have the kind of fun they never knew existed.
Be sure to monitor the Fall Foliage Prediction Map to pick the perfect time to visit Chesapeake. And don't forget to check out available hotel packages to plan your perfect getaway to Chesapeake this fall.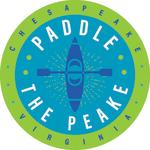 You can also earn cool rewards while you explore Chesapeake's waterways with the Paddle the Peake! Prizes include a Paddle the Peake sticker, dry bag, hat and Nalgene water bottle. Launch your vessel of choice and paddle through the untamed Dismal Swamp Canal, home to river otters, foxes, black bears and many other species of wildlife living among the calm amber waterway and gorgeous bald cyprus trees. At Northwest River Park features 764 sprawling acres, canoe, kayak and paddleboat rentals to explore the glassy-calm Lake Lesa. There are nine locations in total in the Paddle the Peake program. Get started with Paddle the Peake!
#PeakeFall