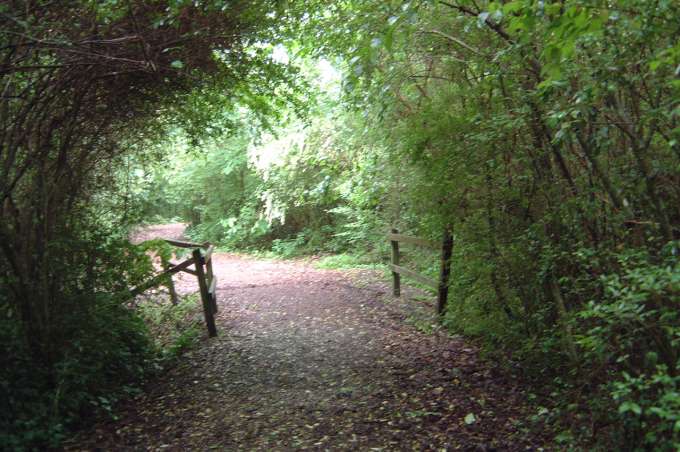 Chesapeake's temperate weather and easy access to everything from city parks to untouched forests and wetlands make it the perfect place for those who love outdoor activities. Whether you're looking to go running or just let the kids run around, Chesapeake offers urban trails and recreational areas for everyone, while the pristine wilderness in the surrounding region offers opportunities for hiking, running, cycling, kayaking, and every other form of outdoor adventure.
The TRACK Trail at the Great Dismal Swamp National Wildlife Refuge is a 1.5-mile trail that follows the Black Bear Trail to Wood Duck Loop.
The lands of the Refuge were the traditional hunting grounds of several groups of Indigenous people, including the Nansemond Tribe. Today, the refuge protects the unique pocosin forest ecosystem of the Great Dismal Swamp. As you walk the trail, you will see a landscape different from the one Indigenous people walked through, but equally important for wildlife. Look for pond pines, black bear, switch cane, and a diverse array of other plant and animal life.
Kids in Parks is a network of family-friendly outdoor adventures called TRACK Trails. Our fun self-guided activity brochures and signs turn your visit into an incredible outdoors experience. Best of all, you can earn PRIZES for tracking your adventures! 
Northwest River Park is a 763-acre natural park located on the banks of the Northwest River. Here you will find five trails from .75 miles to 2.5 miles. These trails can be combined into almost eight miles of trails for a variety of hiking experiences. A must-stop along the way is the Marjorie A. Rein Memorial Walkway. This .25-mile path and boardwalk take you to a scenic overlook, which some say is the most beautiful spot in Chesapeake. Make a day of it by enjoying a picnic along Lake Lesa or taking to the water by renting a paddleboat or kayak.
Located in the heart of Chesapeake you will find the Chesapeake Arboretum. A botanical garden with 45 acres of sprawling indigenous trees and vibrant gardens. Here you will find 3.5 miles of trails to explore including eight bridges and beautiful Lake Hughes. You will find special gardens to include a native woodland garden, Stewartia Grove, and Camellia Cove. It takes approximately 40-45 minutes to complete the north and south loop and the trails are popular for hiking and trail running.
Located on the banks of the Atlantic Intracoastal Waterway, the 1.2-mile loop at Battlefield Park is a local's favorite. Seeing boats ply the waterway while enjoying this easy hike is a bonus. The trail ends on a raised marsh walkway with an overlook of the Great Bridge Causeway, where the original Battle of Great Bridge occurred. On the grounds of Battlefield Park is the Great Bridge Battlefield & Waterways Museum as well as a historic interpretive trail.