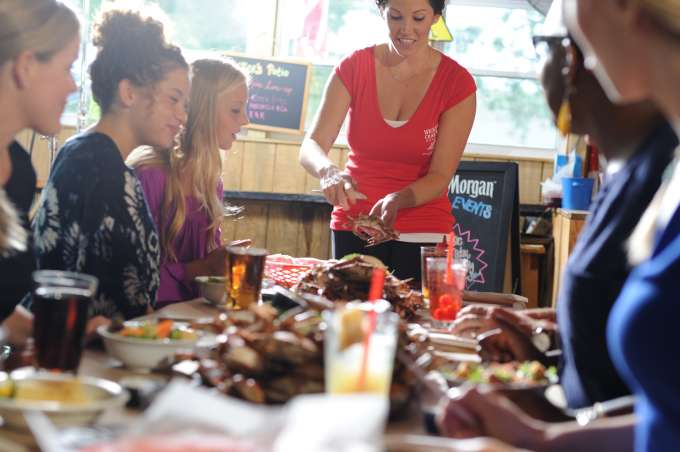 As a foodie destination, Chesapeake, VA has plenty of unique local restaurants to satisfy even those who've tasted it all. From fresh seafood to award-winning Chinese cuisine, the best restaurants in Chesapeake, VA reflect the city itself. Quality ingredients, locally caught fish, and produce grown nearby are common elements you'll find among the top picks for dining in Chesapeake. We went to Yelp to round up the current Top 10 places to eat in Chesapeake with 100 reviews or more.

Specializing in hand-pulled noodles made in the restaurant. Other favorites include knife-sliced noodle soup, stir-fried noodle, and fried rice. Menu: All Day - $25

Our take on the classic American steak and fish house. Our beef, pork and poultry are antibiotic and hormone free. Open Sunday's for brunch.

Pizzeria Bella Vista by Signorilli is an authentic Neapolitan pizza restaurant. They prepare all pizza under the strict Vera pizza Napolitana guidelines. Standard and traditional Neapolitan pizza...

Fine dining on the Intracoastal Waterway offering a terrific ambiance and a wide variety of spectacular, Mediterranean-style dishes. A wonderful selection of drinks, wine, and more.

Family-owned Cutlass Grille restaurant, in Chesapeake near Chesapeake Regional Medical Center, offers the very best home-cooked Jamaican and Southern Barbeque. See our menu for a tasty, delectable...

A wonderful authentic Chinese cuisine restaurant located in the Greenbrier section of Chesapeake! Weekday lunch specials.

Locals favorite restaurant specializing in locally caught seafood and locally grown produce. Extensive wine selection from small family-owned wineries.

We are proud to be a locally owned and operated establishment. The Cutting Edge Cafe was opened in April, 2009 by Matt and Melanie Hayes and has been an increasingly popular lunch spot. All of our...
Rounding out the Top 10 Restaurants in Chesapeake According to Yelp are Osaka Ramen and Sushi Chesapeake and Momo Kitchen Gourmet Dumplings. You can find information on restaurants in Chesapeake, VA here.