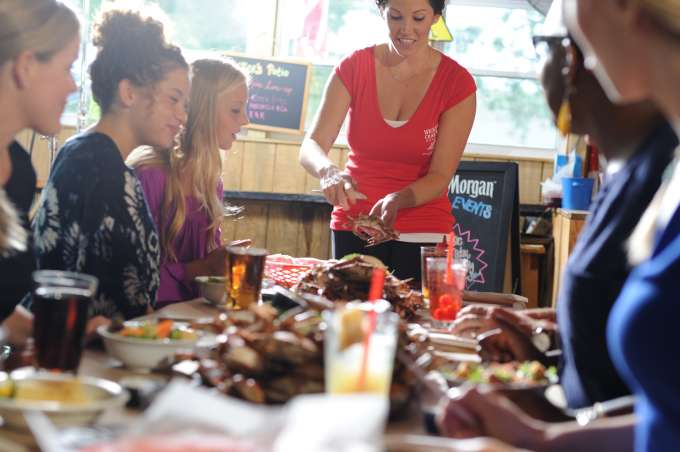 As a foodie destination, Chesapeake, VA has plenty of unique local restaurants to satisfy even those who've tasted it all. From fresh seafood to award-winning Chinese cuisine, the best restaurants in Chesapeake reflect the city itself. Quality ingredients, locally caught fish, and produce grown nearby are common elements you'll find among the top picks for dining in Chesapeake. This dedication to high standards and a welcoming atmosphere is what makes the food here a must-try.
Check out some of the best places to eat in Chesapeake, but keep in mind that this list is in no way exhaustive and there are so many more excellent dining options out there.
Wicker's Crab Pot Seafood
Run by a fourth-generation waterman, Wicker's Crab Pot Seafood is the best place in town to savor fresh crab and all kinds of other under-the-sea delights sourced from local waters. Start with crab dip, seafood chili, or a bowl of classic she-crab soup. Then try the soft-shell dinner, seafood pot pie, blackened tuna, or an order of bay oysters, which come shucked and served with drawn butter.
The Butcher's Son
For a celebratory night out, try The Butcher's Son where you can order seafood nachos, followed by beautiful cuts of beef and delicious sides. The modernly stylish restaurant has low lighting perfect for romantic occasions. Or, for those looking for a fabulous brunch, The Butcher's Son offers an all-you-can-eat buffet each Sunday.
Kapers Eatery
Consistently ranked 5 Star, Kapers Eatery is the place to go for Spanish inspired tapas. Delicious offerings include Mini Crab Cakes and Marinated Chimichurri Chicken Skewers.  And because you will have room, their homemade cheesecake with flavors such as White Chocolate Raspberry, Death by Chocolate, and Orange Amaretto Chocolate, is a must-try!
The Cutting Edge Cafe
Hoping for an easy lunch with lots of locals? The Cutting Edge Cafe is a bright spot with a chalkboard menu that's just what you need. Fresh panini, salads, soups, and sides are served with homemade bread. Favorites include the grilled cheese and jam panini, homemade hummus, and sweet potato fries.
Judy's Sichuan Cuisine
If you're in search of authentic Chinese flavors in a sleek setting, head to Judy's Sichuan Cuisine. In the winter, keep warm with giant hot pots for which they have a separate menu. And in the summer, cool down with cold dishes like steamed chicken in hot chili oil served cold or Sichuan-style spicy cold noodles. Other specialties include soup dumplings served in a traditional bamboo steamer basket and tea-smoked duck cooked to crispy perfection.
The BBQ Shack
Craving the smoky flavors of barbecue? The BBQ Shack offers brisket, turkey, and pulled pork, alongside scrumptious sides like baked beans, coleslaw, and cornbread. As the name indicates, this barbecue joint is more of a house than your typical restaurant and there are only a few tables available to sit at, so plan accordingly and perhaps opt for carry-out to take your barbecue with you into the beautiful Chesapeake outdoors.
Off the Hook
For a seafood treat in the Great Bridge area, head to Off the Hook Seafood & Chophouse. With a polished, yet casual, atmosphere, the folks here take seafood seriously and even have a market where you can buy fresh catches. You'll find parts of the menu changing seasonally to reflect those fresh catches, like razor clams or red snapper, but other favorites are available year-round. Get the Seafood Special broiled or fried and you're in for a mountain of seafood that includes mahi-mahi, shrimp, scallops, oysters, and crab cake, plus sides.