KayaXpedition
Presented By:

Chesapeake Parks, Recreation and Tourism

409 Byron Street, Chesapeake, VA 23320

Phone:

(757) 382-6411
overview
The annual KayaXpedition, a kayaking and canoeing event, is back in Chesapeake this year! There's something for everyone including music, food trucks, kayaks and canoes. Bring your own kayak/canoe/stand-up paddleboard (SUP), or use one of our kayaks/canoes.
Free Stand-Up Paddle Board Demos on-site. Day-of registration only, first come first serve. Come experience stand-up paddle boarding "SUP" both intro and basic yoga with our partners, Nuleeu.
Paddle Your Way!
• Use One of Our Kayaks or Canoes (see age and chaperone requirements) - 30 minute sessions - FREE. (On-site registration required, limited availability).
• Bring Your Own Kayak, Canoe or SUP (and personal floatation device or PFD) - FREE.
- No trailers allowed.
- Inflatable kayaks and SUPs are allowed; however, staff have the right to deny access if vessels are not rigid in design or are not properly inflated. Multi-layered construction of vessels is preferred.
Age and Chaperone Requirements:
• All youth age 17 or younger must wear a personal flotation device (PFD) and be able to swim.
• Youth age 12-17 may paddle in a separate boat but must be accompanied by an adult chaperone in another boat. Required ratio of youth participants to adult chaperones will be one to one - one adult chaperone for each youth participant.
• Youth age 11 years or younger must paddle in the same boat with an adult.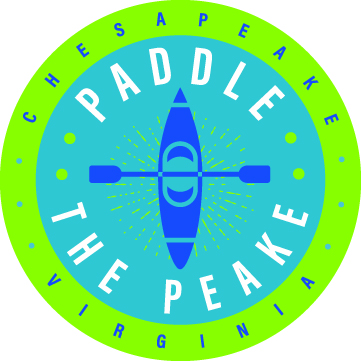 Paddle the Peake Passport Check-In Site!
Exploring Chesapeake's beautiful waterways and awe-inspiring wildlife by kayak, canoe or paddle-board just got even more exciting with the new Paddle the Peake Passport. This FREE passport guides you to the great places to paddle, the history and ecology of local waterways, Chesapeake flora and fauna, and more as you "level up" for fun perks along the way.
Prizes will be awarded for the number of unique location check-ins you do. Make it a road trip or weekend getaway and earn fun swag like dry bags, hats or the exclusive Paddle the Peake Nalgene water bottle. For more information on how you can earn rewards, visit our web page.
Event Info
Presented By:

Chesapeake Parks, Recreation and Tourism

Dates:

6/10/2023, 6/11/2023

Location:

Oak Grove Lake Park

Address:

409 Byron Street, Chesapeake, VA 23320

Phone:

(757) 382-6411

Time:

9:00 AM to 2:00 PM

Price:

Free