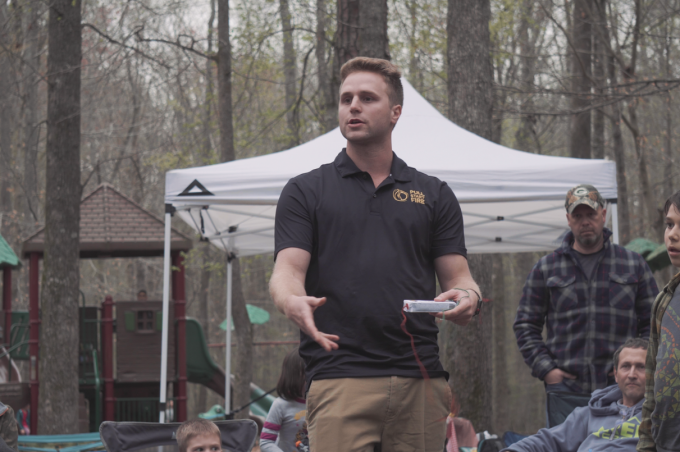 I'm a camper. For me, being out in nature is among the most transformative experiences in life. I'm also a proud resident of Chesapeake and an entrepreneur. One of the greatest events of my life happened at the intersection of all three.
It all began when a group of my engineer friends, who've been camping in Chesapeake most of our lives, went winter camping in Snowshoe, West Virginia and got stuck in a -22° F snowstorm.
We had all the fire-starting materials we needed, but we just couldn't start a fire. One of us joked that, given today's technology, we should be able to push a button and start a fire.
Well, that joke stayed with me. And in the months that followed, I began work on a solution.
We made a list of things we didn't like about starting a fire and designed them away, one at a time. And when we reached the product version that tested well in snow and rain, we posted a video of it online. It became a viral sensation, racking up over two million views on Facebook and was translated into multiple languages. That's when it really hit us: We were on to something.
We named it Pull Start Fire and began manufacturing it right here in Chesapeake.
A great experience to come from our "viral camping hack" is teaching campfire-making at REI events in Chesapeake. We get to meet our neighbors and talk about the amazing places our area has for camping.
My friends and I love Chesapeake Campground. It has 133 camping sites on 20 acres for campers and RV campers alike. It even has hayrides, a miniature golf course, a driving range, bicycle rentals and pony rides
The site is close to the Great Dismal Swamp National Wildlife Refuge that has this incredible 8.5-mile flat biking and hiking trail. And for those who love more extreme camping, like my friends and I do, you can camp deep in the heart of the refuge. It doesn't have any campsites, but the site is accessible by water, so you can paddle in on a canoe or kayak or take a 25-horsepower or less motorboat.
And the Dismal Swamp Canal feeds into Lake Drummond, which I think is one of the most naturally breathtaking sites in the world. The lake is only six feet at its deepest and is enveloped in cypress trees, which have a supernatural look to them. The water is some of the purest in the world and the tannins from the cypress trees turn the water brown and also kill living bacteria. Paddling through, you feel like you're on another planet.
We also love Northwest River Park and Campground, with over 760 acres of natural beauty, miles of trails for biking or hiking and Lake Leesa that's stocked with trout. There's also a ranger station and a camp store that sells Pull Start Fire. And on Friday and Saturday nights you can trailer in your horse, camp together and then go big on the trails.
Our country offers so many natural wonders. How lucky are we to live in one of them?